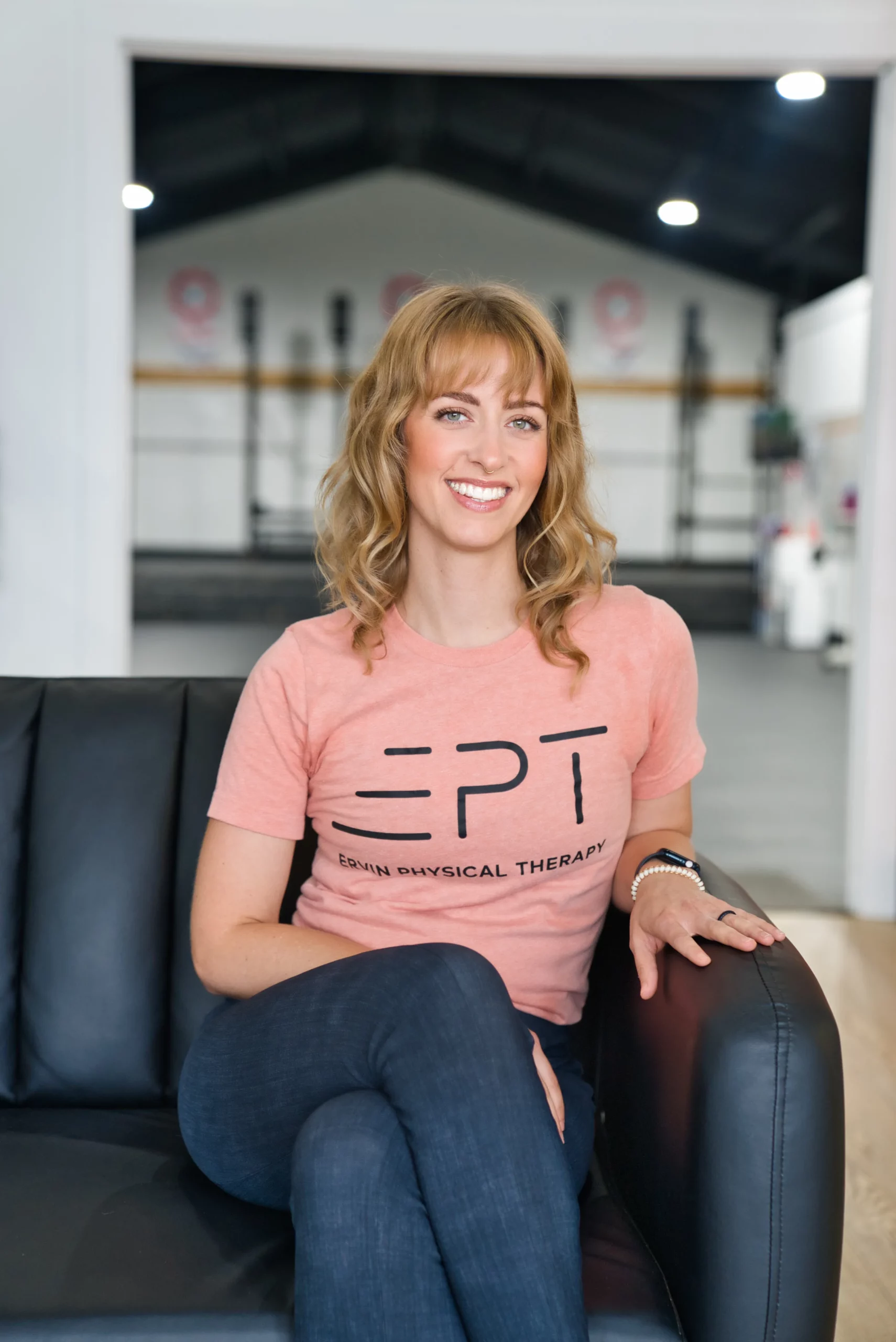 Britney Ervin
OTR/L
Owner, Occupational Therapist
I grew up in a small town in the Illinois/St. Louis area. I received my Bachelor of Science degree from Southern Illinois University Edwardsville and my Masters in Occupational Therapy from Missouri State University. I have worked in many different settings, including pediatrics, acute inpatient, nursing homes, orthopedics, and hand therapy.
Although I have loved every setting, I have a huge passion for helping women who are struggling with their pelvic health because I've been there myself. After having our second daughter in 2020 and experiencing pelvic floor difficulties, I knew I wanted to share my knowledge with others. I also have a collegiate running background and am a certified Running Gait Analyst. I love helping injured runners and postpartum runners get back to doing what they love!
Core Values:
Trust
Compassion
Transparency
Optimism
Favorite Quote
"If you don't like the road you're walking, start paving another one."
– Dolly Parton
What's Britney Watching, Reading, or Listening To?
Top 3 Movies:
1. The Great Gatsby
2. 50 First Dates
3. Call Me by Your Name
Top 3 Books:
1. Come as You Are
2. The Body Keeps the Score
3. The Perks of Being a Wallflower
Top 3 Shows:
1. Ted Lasso
2. Queer Eye
3. The O.C.
Top 3 Podcasts:
1. Pelvic PT Rising
2. Fertility Friday Radio
3. In Your Pants with Dr. Susie G
My ultimate goal is to help my patients understand why their pelvic issues are occurring and improve the root cause of their issues. My specialties include pelvic floor therapy, running gait analysis, women's health, hand therapy, and pediatric feeding therapy.
The conditions I most enjoy helping my patients with are postpartum complications, urinary leakage, chronic constipation, pelvic organ prolapse, pain with running, pelvic pain, hip pain, upper extremity issues, C-section scar complications, mechanical infertility, tailbone pain, pelvic floor dysfunction, and painful intercourse.
I love working at EPT because we have the best staff!
When I'm not working, you can find me hanging out with my 2 daughters (Olive and Ezra). I also enjoy hiking with my family, road running, and trail running.
"I have been working with Britney, doing pelvic floor therapy. She has honestly fixed problems I was told could not be fixed! Love her and highly recommend her!" – Holly
"I highly recommend EPT for any therapy needs. These people are very professional and down to earth." – Rob
"Very knowledgeable and up to date on services they provide. Also very considerate and thoughtful to their patients."  -Leann