Post Operative Orthopedic Care

IN Morganfield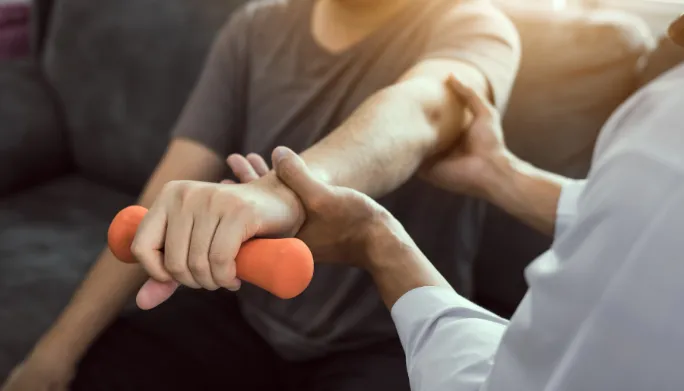 What is Post Operative Orthopedic Care?
At our physical therapy clinic, we understand the importance of comprehensive care in your journey to recovery following orthopedic surgery. We are proud to offer a dedicated Post-Operative Orthopedic Care service, ensuring you regain your mobility, strength, and confidence in a safe, supportive, and nurturing environment.
Orthopedic surgery, whether due to injury or as a treatment for conditions like arthritis, fractures, or degenerative diseases, can be a major life event. Our primary aim is to help you regain your independence and return to your daily activities as smoothly and quickly as possible.
What are the Benefits of Post Operative Orthopedic Care in Morganfield?
The days and weeks following surgery are crucial for your recovery. Our team of highly skilled and experienced physical therapists is dedicated to providing an individualized recovery plan designed to restore function, improve mobility, and alleviate pain. We are equipped with state-of-the-art facilities and use evidence-based practice to ensure you receive the highest quality post-operative care.
Our post-operative orthopedic care encompasses a wide range of treatments and therapies, from mobility and strengthening exercises to pain management techniques. On your first visit, our therapists will conduct a thorough assessment, including understanding your medical history, surgical procedure, current functional abilities, and personal goals. This assessment will help us create a tailored program to suit your unique needs and recovery timeline.
We believe that everyone is unique in their recovery process, and so the care you receive should be too. Our physical therapists will work with you to set achievable goals and create a plan that challenges but does not overtax you. This careful balance ensures that your body heals at the optimal rate, reducing the risk of complications or further injury.
One of the pillars of our service is education. We empower our patients by providing them with the knowledge and understanding of their recovery process. Our team will teach you about the surgical site, precautions to take, pain management strategies, and exercises that will aid in your recovery. This knowledge allows you to take an active role in your recovery and understand the significance of each stage in the healing process.
Our treatments and therapies include mobility and strength training, balance and coordination exercises, pain management techniques, and soft tissue mobilization. The primary objective is to promote healing and restore function. We aim to not only help you recover fully from your surgery but to improve your overall physical fitness and wellness.
The period following orthopedic surgery is often characterized by pain and limited mobility. Our physical therapists employ safe, non-invasive methods to manage pain. This can involve a combination of techniques such as massage, electrotherapy, heat or cold therapy, and ultrasound. Our ultimate goal is to help you resume your normal activities without relying on medication for pain relief.
At our clinic, we appreciate that recovery is not just a physical process, but an emotional journey as well. Our team is here to support you every step of the way, providing encouragement, motivation, and reassurance to help you overcome any barriers you might face.
We don't just see you as a patient; we see you as an individual with specific needs, goals, and aspirations. This is why we place a significant emphasis on building strong relationships with our patients. We want you to feel comfortable in your recovery environment, and part of that involves building a bond of trust and understanding with your physical therapist.
We also understand that surgery and the recovery process can sometimes be overwhelming. You might have concerns and questions about your condition, the recovery process, and what you can do to expedite your healing. Our therapists are always on hand to provide clear, concise information, answer your questions, and offer reassurance. They will also guide you on home care practices and exercises that you can safely do outside the therapy sessions to improve your outcomes.
Our culture is founded on compassion, expertise, and dedication. We work tirelessly to ensure you can return to the life you love and enjoy—quickly, safely, and confidently. Your recovery and satisfaction are our top priorities in our Post-Operative Orthopedic Care service.
We value the close relationships we maintain with our patients' physicians, ensuring that we can provide the most appropriate, coordinated, and effective care. Our physical therapists will maintain regular communication with your doctor about your progress, adjusting your treatment plan as necessary and addressing any concerns that might arise.
Call Our Morganfield Clinic Today!
To sum it up, our Post-Operative Orthopedic Care service at our physical therapy clinic is a comprehensive solution to your post-surgery needs. Our commitment to individualized care, coupled with our expertise and advanced facilities, ensures you have the best possible support on your journey to recovery. From your first step into our clinic, until you achieve your recovery goals, we are here to help you regain your strength, mobility, and confidence.
Request An
Appointment
Please fill out this form and
we will contact you about scheduling. Megan Buckman
EPT has been amazing. I have worked with Isaac after having a second operation after a knee replacement. The staff at EPT is caring and encouraging through the recovery process. Can't recommend them enough. George Wolfe
Ervin Physical Therapy did a great job helping me recover from two hip replacements. They are the only PT place I will consider if I ever need more PT.